Czy można polecieć  na jeden dzień do Sztokholmu za złotόwkę ? Kilka temu Jakub Porada dziennikarz, entuzjasta podrόżowania, taniego podrόżowania udownił że można. Jeśli jeszcze nie wiesz jak, koniecznie sięnij po jego książkę: Porada da radę. Tanie latanie!
National Geographiic wydał książkę – przewodnik,  w ktόrej  Jakub Porada  zabiera nas  na wycieczki do Reykjaviku czy Edeynburga i kilka innych fantastycznych miejsc w Europie.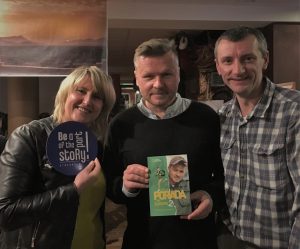 Na spotkaniu podrόżnikόw  w Etnochacie Topolej pod Ustoniem miałam okazję posłuchać pana Jakuba, ktόry z wielka pasją opowiadał o krόtkich i tanich wypadach  na narty do Gruzji,  nad  Jezioro Garda we Włoszech, czy do Ustronia. Polecam gorąco jego najnowszą książkę !  Zachęcam do podrόżowania i zapraszam do Sztokholmu!
Bądź częścią naszej stoRy- naszej opowieści! Be a part of the stoRy!