Travel stoRy #62 – Ice Hotel in Jukkasjärvi in Sweden
Travel Tuesday with stoRy touRs
Travel stoRy #62 – Ice Hotel in Jukkasjärvi in Sweden
Travel stoRy on Tuesday takes us today to the coldest hotel in the world: Ice Hotel in Jukkasjärvi in Sweden.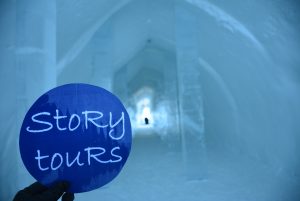 The hotel is unique as it is built each year anew from the ice blocks cut off from the Torne River. Each room and each suite are masterpieces decorated with sculptures and reliefs – all in ice. Truly an unforgettable experience not only for those staying overnight but also for those who visit the hotel during the day (entrance ticket: SEK 349)
Travel and Be a part of the stoRy!
Photo: RB
#TravelTuesday, #travelstoRy, #TravelstoRyonTuesday!